Climb Kilimanjaro
Departure: Daily
Duration: 4 Nights/ 5 Days
Route: Marangu
Day 1: Morning start the climb through fascinating rain forests until Mandara Hut 2725 m. Walking time 4 hours, meals and overnight at the hut.
Day 2: After breakfast, the walk will take through the alpine meadow. The altitude begins to change slows down your pace while enjoying the flora and the view of Mawenzi and Kibo peacks. Arrive at Horombo Hut 3780 m after 5 hours walking, 12 km from Mandara. Meals and overnight at the hut.
Day 3: After breakfast start to climb again. The landscape becomes rugged and rocky. You will reach Kibo Hut 4730 m after 5/6 hours walking. Meals and overnight at the hut.
Day 4: Resume the ascent very early in the morning. Climb the most difficult and tiring part of the route, till you reach Uhuru peak 5895 m after 6 hours about. Enjoy the most beautiful sunrise of Africa. Start the descent to Horombo Hut for overnight.
Day 5: Resume the descent, late in the morning transfer to Arusha, end of this unforgettable experience of a lifetime.
Zanzibar Spice Island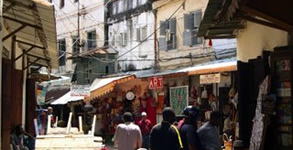 Departure: Daily
Duration: 6 Nights/ 7 Days
Location: Zanzibar Island
Day 1: A.M. Meet and transfer from ferry/airport to town , optional city tour in the narrow streets of the enchanting Zanzibar. In the afternoon optional spice tour or just relax in your hotel, overnight on B & B basis.
Day 2: After breakfast optional tour in prison island, which is famous for its giant turtles and its turquoise waters. In the afternoon transfer to the most beautiful beach of Nungwi, dinner and overnight at the hotel.
Day 3/4/5/6: Stay at leisure on half board basis at the hotel at nungwi beach, relax on the sandy beaches, enjoy your swimming and snorkel one of the most beautiful reefs of the Indian ocean.
Day 7: Transfer to the airport for your flight back home.
Price is inclusive of: Transfers, Accommodation, Half Board at Nungwi Hotel.
Price is not inclusive of: drinks, tips etc.
*Notes: All the tours on the 'island of spices' can be arranged on request. 
List of Safaris

Northern Tours
2 Nights/3 Days - Manyara / Ngorongoro
2 Nights/3 Days - Tarangire/Ngorongoro
3 Nights/4 Days - Manyara / Serengeti / Ngorongoro Car
4 Nights/5 Days - Manyara/ Serengeti / Ngorongoro/ Tarangire
5 Nights/6 Days - Manyara 1n / Serengeti 2n / Ngorongoro 1n/ Tarangire 1n
6 Nights/7 Days - Manyara 1n /Serengeti 2n / Ngorongoro 2n/Tarangire 1n
7 Nights/8 Days - Manyara 1n /Serengeti 3n / Ngorongoro 2n/Tarangire 1n
Southern Tours
3 Nights / 4 Days - Dar/Selous/Dar *On request extension for Mafia & Zanzibar
3 Nights / 4 Days - Dar / Ruaha / Dar
3 Nights / 4 Days - Dar / Ruaha / Dar by plane
8 Nights / 9 Days - Mikumi 1n / Ruaha 3n / Morogoro 1n / Selous 3n